Background/ Why Is This Important?
Children with complex health care needs may be referred by their local health teams for assessment and/or treatment from the sub-specialty teams at BC Children's Hospital (BCCH). For children living outside of Vancouver, a trip to BC Children's Hospital for care can mean significant travel, cost, and disruption for the whole family. Outreach clinics bring BC Children's Hospital's sub-specialized expertise and services to BC families in their home communities. Outreach team members may include sub-specialty physicians, nurses, physiotherapists, echo sonographers, and dieticians.
What Actions Have Already Been Taken?
Planning and coordinating outreach clinics, in conjunction with BC Children's Hospital, is a key priority of Child Health BC (CHBC). In addition to enabling BC Children's Hospital to provide leading edge care while optimizing system resources, outreach clinics also build partnerships with community-based health care teams to support children's health on an ongoing basis. To provide a framework for planning outreach services, an annual process was developed with pediatric leaders to ensure the needs of children were being met across the province. The program will continue building local capacity, integrating existing community sub-specialists into the delivery of outreach.

For the past decade, Child Health BC has supported and strengthened the growth of outreach clinics. In 2019/20, BCCH outreach patient visits increased by more than 20 per cent, offering 491 clinic days, translating to more than 5,400 patient visits (see Table 1).

In March 2020, due to the pandemic, outreach services were suspended to all Health Authorities. CHBC (in partnership with BCCH and the Health Authorities) planned the re-opening of outreach activities in May 2020. This re-opening was based on completion of COVID-19 safe site-assessments for 19 sites to safely restart in-person outreach services based on provincial and territorial public health requirements.

Annual planning was completed with each Health Authority until the end of March 2022. In 2020/2021, a total of 161 clinic days were completed across BC and Yukon. To date, 227 outreach clinic days have been booked at host sites in 2021/2022.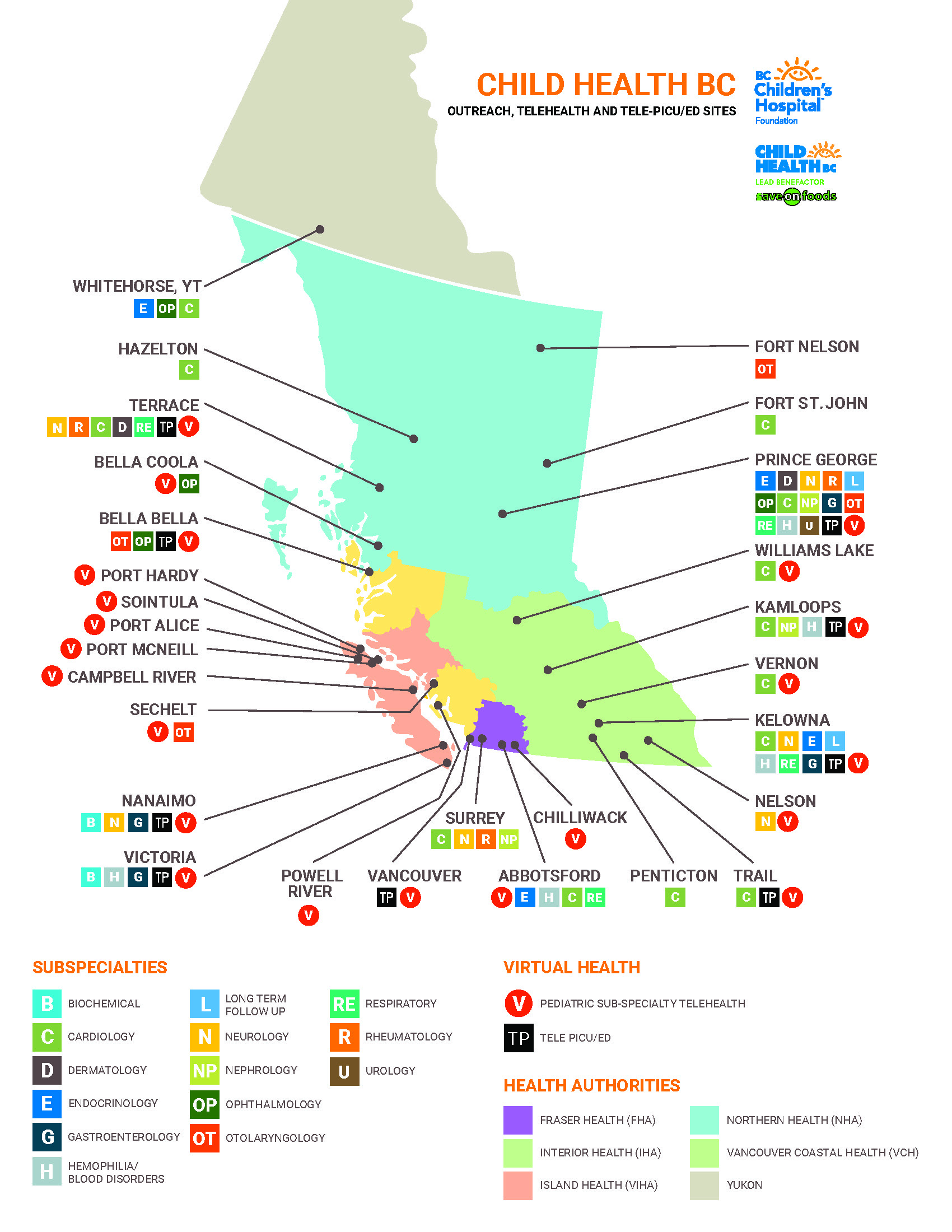 Sub-specialty Clinic

Total Clinics 2019/20

Total Clinics
2020/21

Total Clinics
2021/22
Biochemical
4
0
0
Cardiology
151
125
158
Cystic Fibrosis/Respiratory
7
8
15
Dermatology
8
0
0
Endocrinology
54
6
16
Gastroenterology
38
0
6
Hemophilia
5
0
2
Long Term Follow Up clinic
0
0
1
Nephrology
56
6
12
Neurology
102
0
0
Oncology
0
0
0
Ophthalmology
11
0
1
Otolaryngology
10
0
2
Rheumatology
35
13
14
Tone
4
3
0
Urology
6
0
0
Grand Total
491
161
227
Table 1: Outreach Clinic Days booked according to Subspecialty from 2019/2020 to 2021/2022. Data Source: Child Health BC 
Where Are We Going Next?
Child Health BC continues to support and expand pediatric sub-specialty outreach services across BC and the Yukon. This includes expanding outreach to new underserved communities, as well as adding new clinical programs as appropriate.
Virtual Care(including virtual visits) is another transformational strategy for eliminating barriers to access to sub-specialty care, and enabling care proximity in children's home or community. Virtual care will enable children to be seen in their homes or communities, seamlessly integrating specialized care into the care plan. These technologies have the potential to decrease wait times to see sub-specialists, to enhance follow-up care after hospital discharge, and to provide support in schools.